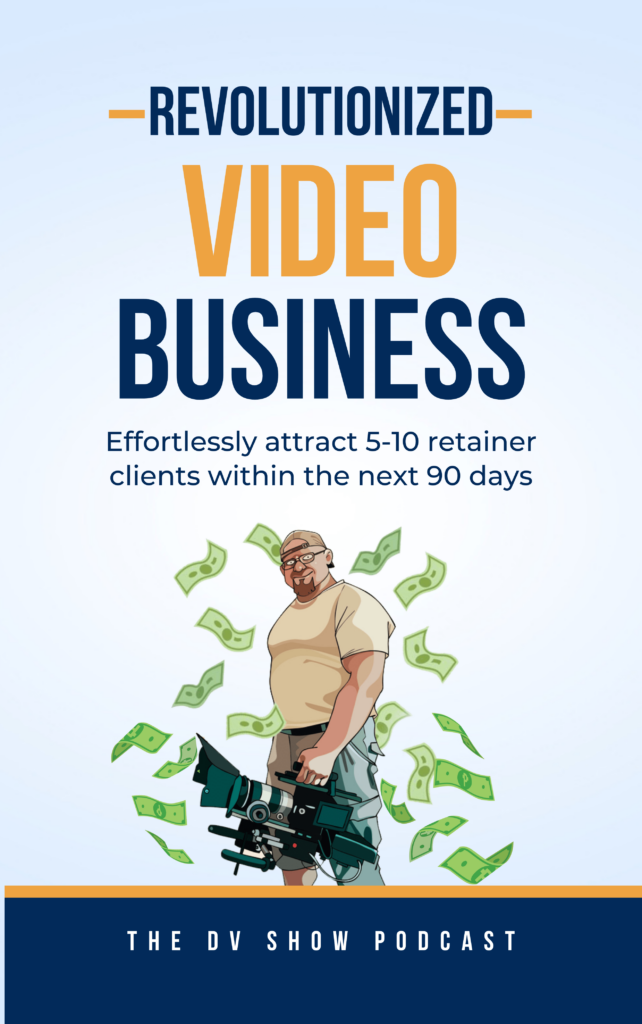 If you're ready to take the plunge, we've custom-built this system for you to seamlessly integrate into your video production business – and it's yours FREE.
So, if you're yearning for 5-10 fresh clients within the next 90 days or sooner, simply request your free download below.
Here's the catch:
No more relying on referrals or word of mouth.
Say goodbye to endless hours spent on website building or learning the intricacies of SEO.
Wave farewell to the tedium of posting on social media or cold-emailing businesses just to secure work.
The beauty of the techniques included in this book?
It does all the hard work for you by identifying potential clients on your behalf and best of all it's a FREE download!
Are You Ready to Skyrocket Your Income as a Video Business Owner?
If you've been accustomed to promoting low-ticket offers below $50, it's time to ask yourself if you're ready to elevate your business and step into the realm of high-ticket services.
We're talking about sales that are $500, $1,000, $2,000, or even more! In this blog post, we'll explore the benefits of transitioning from low-ticket to high-ticket offerings and how it can substantially increase your income.
The High-Ticket Advantage: A Path to $10,000 per Month
Let's consider a scenario: Your goal is to achieve a monthly income of $10,000. Which scenario is more appealing and attainable?
Scenario A: Selling 1,000 copies of $10 products
OR
Scenario B: Finding 5 clients and charging them $2,000 each
In both scenarios, you can potentially earn the same income of $10,000. However, there's a significant difference to note.
Scenario A demands a considerable amount of effort and resources to acquire a large customer base. Selling 1,000 copies of a low-priced product requires extensive marketing, customer support, and often results in dealing with numerous buyers.
Now, here's the secret: It's much EASIER to find a handful of clients willing to make substantial payments for your high-ticket services than it is to attract a multitude of buyers for lower-priced items.
Dealing with a high volume of customers purchasing low-priced products can be challenging. Customers who pay less often demand more for less, leading to increased support requirements and potential headaches.
This isn't to say there's anything wrong with selling low-ticket offers. However, if your goal is to reach $10,000 in earnings this month, all you need is to find 2 clients willing to invest $5,000 each.
With just 2 clients, your workload and challenges become significantly more manageable, allowing you to focus on delivering exceptional value and service.
What You'll Gain from the FREE High-Ticket Sales Training:
If you're ready to embrace the world of high-ticket sales, you're on the path to unlocking your full earning potential. In this comprehensive training program, you'll learn valuable skills and strategies, including:
Transforming your core belief system and converting self-limiting beliefs into empowering ones.
Mastering a highly effective, 6-step sales process to close deals successfully.
Capturing the hearts and minds of potential clients.
Exploring the APAC Model for client engagement.
Discovering strategies to overcome some of the most common objections you'll encounter.
Finding out how to market to individuals with the financial means and desire to invest in your services.
Positioning yourself as an authority and expert in your field.
Plus, much more awaits you in this training program designed to equip you with the knowledge and tools needed to excel in high-ticket sales.
Are you ready to take your video business to new heights and start doubling, tripling, or even 10X your income?
It's time to make the leap from low-ticket to high-ticket offerings, and this FREE training program is your key to success.
Unlock your full earning potential and watch your income soar as a video business owner.